×
Select Check-in Date
---
Number of Nights
Number of Guests
adults
children
Select Check-in Date
---
Select Room Types
or leave blank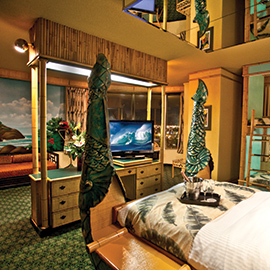 Luxury Theme Rooms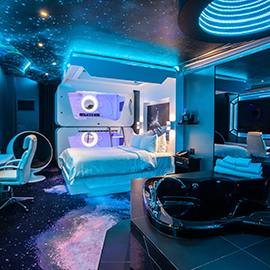 Theme Rooms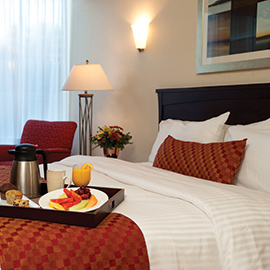 Executive Rooms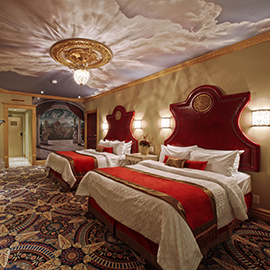 Superior Rooms
COVID-19 Updates
Employee & Guest Health
The health and safety of our employees and guests is at the forefront of our post-COVID strategy. Health and Sanitation guidelines during Covid-19 Pandemic are based on Alberta Health Services , Federal & Provincial governments as per below:

While there have been no reported cases of COVID-19 at Fantasyland Hotel or West Edmonton Mall, the safety and hygiene standards for Employees and Guests will always be our top priority. Enhanced safety measures have been taken at Fantasyland Hotel that are consistent with many other hotels in North America, ensuring that touch points throughout the hotel are being properly sanitized. Please see below for details on our enhanced health and safety plan. Please also stay tuned on this page for any further updates regarding Fantasyland Hotel's response to COVID-19.
Facility
We have put safety protocols in place for our employees and guests both, so our hotel is safe to enjoy for everyone:
To maintain awareness, COVID-19 signage has been deployed throughout the hotel
Public washroom sanitation and cleaning frequency is enhanced
Each table, counter and touch point is thoroughly sanitized after every use
Marked entry and exit automatic doors are to be used to enter and exit the hotel to reduce touchpoints
All employees must keep at least 6 feet away from others while performing their task
Maximum of 3 person per elevator to accommodate physical distancing
Seating arrangement is spaced-out in the staff cafeteria to comply with physical distancing and in any food and beverage outlets that are open on-property
Meetings must be conducted in areas where appropriate physical distancing can take place
All employees must wash their hands with soap and water for at least 20 seconds whenever possible. Hand washing must be performed frequently
Touchless hand sanitizer dispensers have been placed in all departments and key areas should washing with soap and water is not readily available
Environmental Cleaning
Increase of daily cleaning and disinfection of all common areas and surfaces with emphasis on high touch items such as: Door knobs/handles, Elevator and elevator buttons, Light switches, Desktops, Television remote controls, Telephones, Front Desk counter, Room Keys, Stair handrails, Dining surfaces, Tables, Seating areas and Faucets.
Personal Protective Equipment (PPE)
Use of masks, gloves and eye protection is compulsory for employees in order to protect employees and guests both.
Entry and Waiting Areas
Plexiglass screens have been placed on counters in the event employees must interact with guest within 2 meters
Ensure that customers have space to maintain physical distancing in waiting areas while doing check-in and check-out
Encourage guests to wash their hands or use hand sanitizer when entering and leaving the hotel
Guest Rooms
R2 Plus Hygienic Hard Surface Cleaner is an authorize disinfecting chemical by AHS and will be utilize by employees to sanitize all hard surfaces in the room. Housekeeping service will be done while the guest is out of the room to ensure physical distancing is followed.
Any Non-essentials items have been remove from the guest rooms and are available by request only
Notepads
Pens
Guest directory
Information cards
Meetings & Events
Guidelines as of March 8, 2021:
10 people or less – please take into account our staff in these gathering numbers.
The Fantasyland Hotel will continue rigorous physical cleaning of all our venues: wipe-downs
for all microphones and speaker monitors; increased frequency of physical cleaning and usage
of appropriate disinfectant agents for doorknobs, lecterns, handrails, trash receptacles, water
stations, elevator bottoms, chairs, registration tables, and bathrooms.
Health Advisories will be displayed at event venue. This signage will remind attendees to keep
personal hygiene high, provide notices on hand washing and also minimizing physical contact;
continued social distancing (stand a minimum of 3 feet away from people.
All guests to use hand sanitizers before entering the event.
All our staff will have face masks and gloves for service and maintaining the meeting space.
We will ensure our staff follows the proper hygiene measures. This is noted in our internal staff
memorandums and this can be made available to group organizers.
Disposable face masks available for all attendees, should they wish to use.
Massive safety measures in food preparation and serving, respecting social distancing.
No buffets – plated service only or Individually wrapped food instead of open buffets.
For coffee breaks, our staff will be serving beverages and covered individual plates for the
coffee breaks; for line-up, stanchions will be used for 2-meter distancing between participants.
For Wedding or Banquets, please note that family from the same household can be at the same
table, but for guests not from same household, a maximum of 2 people per round table.
Functions with dance, please note that the 2-meter distance between participants must be
respected during this time.
We will control access to the dining area by asking guests to wait to be seated.
We will ensure that customers have space to maintain physical distancing in waiting areas.
Washroom capacity distancing between guests. For example, closing alternate urinals.
We will use rolled silverware and we will not preset tables.
Wedding, birthday or other types of cakes will not be on a buffet but will be sliced and plated
in our banquet kitchen, then individually served by our Banquet staff.
Face masks are now mandatory in all indoor public spaces since Saturday, August 1st, 2020 as
per the City of Edmonton bylaw. This bylaw requires people to wear face coverings at all times
while in indoor or enclosed public places or public vehicles
*Please note that these guidelines will change and be updated based on the Government of Alberta Relaunch Strategy, for more information, please consult: www.alberta.ca/restrictions-on-gatherings.aspx